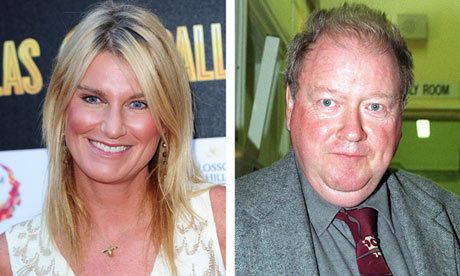 Presiding over the High Court
Mr Justice Tugendhat
found that Sally Bercow had libelled Lord McAlpine by publishing on Twitter defamatory, albeit "nuanced", communications. Full judgement can be read
here
. Bad for law firm Carter-Ruck who had been
instructed
by Bercow. In his summation, the UK's senior libel judge Judge Tugendhat
said
:
"I find that the Tweet meant, in its natural and ordinary defamatory meaning, that the Claimant was a paedophile who was guilty of sexually abusing boys living in care.
If I were wrong about that, I would find that the Tweet bore an innuendo meaning to the same effect."

Any way below are the lessons we can draw from the affair.
Sally Bercow
in a
statement
released through the Press Association said of what she had gained from the litigation:
"Today's ruling should be seen as a warning to all social media users. Things can be held to be seriously defamatory, even when you do not intend them to be defamatory and do not make
any express accusation. On this, I have learned my own lesson the hard way."
Andrew Reid
of RMPI Solicitors and solicitor for Lord McAlpine
said
:
"Mr Justice Tugendhat's judgment is one of great public interest and provides both a warning to, and guidance for, people who use social media. It highlights how established legal principles apply to social media, and how the courts take account of the particular way in which social media operates when reaching decisions on whether publications are defamatory."
Later asked on BBC Radio 4, World at One why Lord McAlpine was so keen to pursue the Sally Bercow case - Andrew Reid said:
"Some people like George Monbiot behaved very honorably and now doing very good work for charity. Others haven't demonstrated that behaviour and I'm afraid Sally Bercow was in that camp."
George Monbiot
was the journalist who got caught up in the original debacle but who stepped back very quickly; making a substantial settlement and showing a lot of remorse. He famously said,
'think before you tweet.'
He was then asked: 'Was there a need to make a high profile example in that sense?'
Andrew Reid
responded:
"This isn't about making examples. This has made clear and concise law. People will be very aware of internet behavior and how they should behave on the internet.
What this case has demonstrated is that it is no different from real life if you do chose to use the social media. The fact is, and I was saying this 6 months ago, that people have got to realize that this is not a coffee table, not in their own home. That their actions can hard a lot of people. Even if they don't intend that to be so. And what is worse is a tweet for example is put there it is there forever, it can't be taken down.
I'm getting two or three cases from people who are getting pilloried by people. The government doesn't seem to want to regulate, although it is easy enough to do so."
Then asked: 'Easy to regulate? The volume and you can put it up and it moves around so quickly.'
Andrew Reid
responded:
"You do have that problem but I do think you've got to treat, whether it's Google or it's Twitter, them as though it's a school notice board and there should be a method whereby they are forced to have people there who, if you make a complaint that something is up, they get it down. Because they can take it down very very quickly if they want to.
It comes down and whoever made that, if he can substantiate it, it should be allowed to be put back up. But at least we could have some form of early redress because so much harm has been done and we have seen children who have unfortunately ended their lives because of pressure that has wrongly been put on them by this sort of social media. And people are hiding behind it, but of course they can't hide behind it because the truth is you can track anyone down."
Lord Tugendhat
gave some advice for the social media community on how to behave:
Tugendhat's judgment is clear and unfusty "readers are to imagine they can see the Defendant's face" #bercow #mcalpine
— Rupert Myers (@RupertMyers) May 24, 2013
Clive Coleman
(
@colmancr
), the BBC's legal correspondent added some weight to the debate. Speaking at the Ten O'Clock news he made a contribution of real substance, setting out the lay of the law as it is in the simplest of terms. He said:
"Publication is publication. Whether it's in a 140 character tweet or a carefully drafted newspaper article."
Ken Reid
(
@KenReid_utv
) of UTV had said something to similar effect earlier in the day. He said on Twitter:
The Sally Bercow decision is a lesson for all. Treat every tweet like a written publication. Hard to say that!
— Ken Reid (@KenReid_utv) May 24, 2013
Joshua Rozenburg
, the leading legal commentator in the UK
said
in the Guardian on the moral of the story:
'The law of defamation is well known to those who write for a living. One hopes Twitter users are beginning to learn what a powerful and potentially dangerous weapon they have at their fingertips. A tweet is more like a broadcast than an email and is subject to the law of libel in the same way. It was Bercow herself who drew the obvious conclusion: "Today's ruling should be seen as a warning to all social media users."'
David Aaronovitch (
@DAaronovitch
) writing in the Times in the aftermath of the High Court ruling
said
:
'It was clear from the ruling that the laws of libel and defamation cover online utterances, and that tweeters, bloggers and other website johnnies had better understand the rules as well as any newspaper or broadcaster does.'
Patrick Strudwick
in the Guardian described the long term reach of what now must be regarded as a landmark ruling. He
said
:
'Thus, from May 24 2013, Twitter's cheeky impulsiveness must be replaced with caution. Told off, it will become a no-smoking pub, a meat-free sausage, a city without any sex. Fun has fallen out of a 10th-story window. Splat.'
Sarah Smith
(
@sarahsmithC4
), the Channel 4 reporter gave an interesting slant on the ruling. She
said
:
"This is a very important ruling from the High Court today because this is the first time anyone has ever been found guilty of defamation for something they said on Twitter. And it sends a message to everyone: do be very careful about what you tweet. Just 140 characters could end up costing you thousands and thousands of pounds."
She later said rightly, that this has been "the most expensive tweet in history."
John Cooper QC
(
@John_Cooper_QC
) on the same news segment
said
:
"What this judgement says to everyone of us using Twitter is use your common sense. If you wouldn't say to a whole crowd of people; if you wouldn't say to a crowd of people, well don't use your thumb and say it on Twitter."
Roy Greenslade
in the Guardian
said
:
'For the avoidance of doubt, the libel law applies to everyone, whatever "platform" they use to make their statements – newspapers, TV, radio, blogs, social media and even the proverbial garden fence.'
David V Smith
(
@David_V_Smith
) gave perhaps the most succinct appraisal of the law as it stands today:
.@brianjohnspencr My take: McAlpine & Bercow in nut shell: No new law. Internet created easier publishing not responsibility free publishing
— David V Smith (@David_V_Smith) May 25, 2013
For the claimant Lord McAlpine:
One Brick Court's Edward Garnier QC leading One Brick Court's Kate Wilson instructed by RMPI lawyer Andrew Reid.
For the defendant Sally Bercow:
Ely Place Chambers' William McCormick QC & David Mitchell instructed by Carter Ruck Partner Nigel Tait.
-
Further Reading:
Want to face a libel suit? Just hit "retweet"
The McAlpine v Bercow Ruling as it Appeared on Twitter